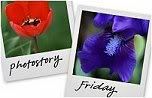 Hosted by Cecily and MamaGeek
Today's photo story began when Mommy left the room to grab the laundry basket. Glynis, the one year old dare-devil, in a split second, figured out how to scale the TALL dining room chair. She proceeded to grab a half eaten banana left out by her big brother in his rush to get to school.
Glynis eats bananas all the time, but this one seemed to be more tasty then normal.
Mommy watched (and photographed) in wonder while telling herself that her job had just taken on a new task. Keeping Glynis Alive and Unscathed. Mind you, there is no pay raise involved.
After Glynis finished off the banana, Mommy tried to retrieve Glynis and the slimmy banana peel. At that point, sweet baby Glynis turned into evil Glynis the Menace! She screamed, flailed and threw banana slime all over Mommy. She was also able to grab the Captain Crunch from the table and dump it onto the floor.
Just minutes after Glynis made this crabby face, Mommy swooped her up and placed her gently and lovingly into her crib. Mommy then cleaned up the floor, changed her own shirt and socks, handed the silly baby her cup of milk and they lived happily ever after!