It's Saturday and I'm feeling a wee bit better. I'm bummed that I didn't get a Photo Story Friday post up. I know I've got plenty of pics and stories to go along with them, but they'll have to wait. So for the weekend I'm leaving a few links to my favorite Photo Story Friday posts of other bloggers. In no particular order, these are my faves this week!
The Pink Dress
Unknown and Forgotten
From Canada with love
Shaking my head
Turn that frown upside down

You can get all the participants' links if you click here...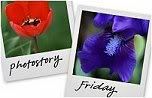 Hosted by Cecily and MamaGeek