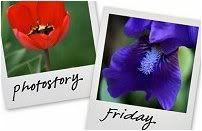 Hosted by Cecily and

Sue
Let's see if you can figure out what happened here.....
An eye opening mile-stone for parents. I remember going through this transition with my three older sons. It's not a mile-stone that I have been looking forward to.
Our two year old learned how to climb out of her crib so her daddy got out the screw driver and switched up her 3 in 1 bed.
Glynis is confined no longer!
So far so good, until yesterday! I laid her down for her nap in her
new toddler bed
and left the room. She was quiet as a mouse, maybe 10 minutes went by and I went to check on her. This is what I found!